Leigh Brooklyn Featured on Cover of Artvoices Magazine 10th Anniversary Issue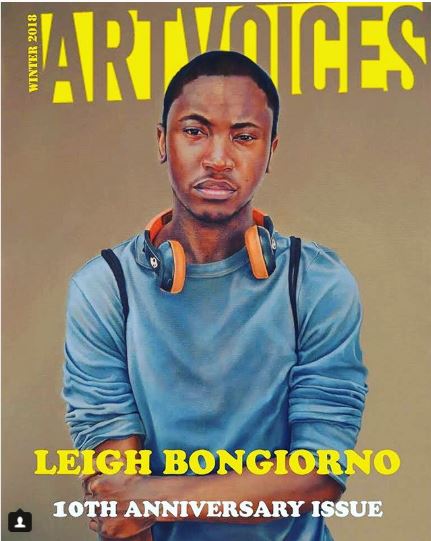 LEIGH BROOKLYN (PREVIOUSLY LEIGH BONGIORNO) FEATURED ON COVER OF ARTVOICES MAGAZINE 10TH ANNIVERSARY ISSUE
Editor Calls Brooklyn One of the 21st Century's Greatest Artists
Cleveland – Dec. 3, 2018 – ARTVOICES magazine is featuring the work of figurative artist Leigh Brooklyn on the cover of its Winter 2018 edition. The publication, which is celebrating its tenth anniversary, selected Bongiorno's painting Him for the cover.
 Editor Terrence Sanders describes Brooklyn as "one of the 21st Century's greatest artists who deserves your attention, support and recognition." Sanders also noted that Bongiorno is a "real artist" whose work "speaks for itself."
 Specializing in figurative painting and drawing, Brooklyn's work allows invisible members of society to be seen. From the homeless of Los Angeles and Miami to a transgender couple she met on a city street to Cleveland's poor, it is the people she encounters every day who inspire her to produce art that elevates and bears permanent witness to their lives. Her work spans topics like race, sex, gender, religion and poverty. Her art is her platform to raise awareness and promote understanding of marginalized and underrepresented people living in our society, while showing the beauty in their story.
 Him is a portrait of Kaylil, a transgendered individual. Like many transgendered people, Kaylil has experienced discrimination. "I hope that people will see Kaylil as an individual, not as a transgendered man," said Bongiorno. She was inspired paint Kaylil as a way to immortalize his image while encouraging acceptance and raising awareness of the transgendered community.
 "My subjects have an authentic story to tell," said Bongiorno. "They are real, they are human, and I want the people who experience my work to recognize their humanity and feel empathy for them."
 Brooklyn has won a variety of awards for her art since 2004, and her work has been displayed in galleries and museums all over the country, including the Makeshift Museum in Los Angeles, Cleveland Institute of Art, the U.S. Capitol Building, Corcoran Gallery, Alliance Gallery in New York, Lorain County Community College, and the Diane von Furstenberg Studio.
The Winter 2018 issue of ARTVOICES MAGAZINE is available at www.artvoicesmagazine.com. This is the second time Bongiorno's work has been featured on the magazine's cover.
 About Leigh Brooklyn
Cleveland-based Leigh Brooklyn (www.leighbrooklyn.com and www.instagram.com/leighbrooklynart) has made a name for herself in the art world by creating artworks that give a visual voice to the voiceless. Focusing on figurative representational artworks, Brooklyn creates compelling paintings evoking a sensitive glance at humanity by capturing the life force and image of marginalized people. With a degree in Biomedical Illustration from the Cleveland Institute of Art, Bongiorno's style of art blends imaginative surrealism and photorealism for an insightful and thorough look and the human experience. Leigh's work has been displayed in galleries and museums around the country from New York to Los Angeles. She recently settled back in her hometown of Cleveland where she plans to further expand her artistic and humanitarian endeavors in the local, national and international community.